Meeting Notice

Local 1320 General Membership Meeting Notice:

Date: Tues. Sept. 11, 2018
Time: 4:30 PM sharp
Place: 125 Barclay St. NYC
Rooms 2 & 3

Agenda:.
1) Reading of Minutes
2) Financial Report
3) Officers Reports
a) New Hires
b) Economic Bargaining
c) Labor Management
Issues

---

For All Local 1320 Tentative Meeting Dates for 2018,
click here. (PDF*)



Message from the President

By JIM TUCCIARELLI, President, Local 1320

Finally after years of investigation, discussion and education of the membership on the details of what we were up against in this last round of bargaining the Locals Bargaining Committee entered into a 15 hour marathon bargaining session on October 26, 2015 with the City's Office of Labor Relations and negotiated a deal that the Bargaining Committee unanimously agreed to send to the membership for ratification.

The American Arbitration Association conducted a mail ballot which was counted on November 25, 2015 and once again the membership spoke and ratified the contract 535 yes to 34 no.

On behalf of the Local I would like to thank David Paskins and his staff from the Research and Negotiations Department, Steve Sykes from the Legal Department, Henry Garrido the Executive Director of DC37 and I personally would like to thank the Membership of Local 1320 for their patience, understanding, support, and solidarity thru out this long and difficult process.


Results of Ratification

Contract Ratification Election: Click here to view the Certification of Results provided by the American Arbitration Association.


DC 37, Local 1320 Memorandum of Agreement
Click here to view the 2008-2017 Memorandum of Agreement (MOA).


Local 1320 Rate Increases
Members elect new leadership team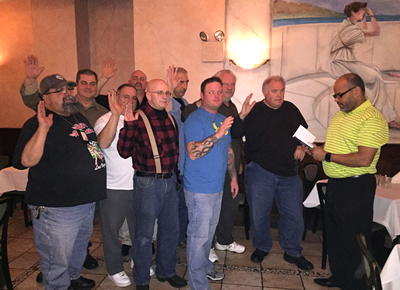 Local 1320 Officers being Sworn in by
Blue Collar Division Director David Catala.


At the November 17, 2015 General Membership Meeting Nominations were held for the Locals Officers positions as well as the Delegates to DC37.

The following Officers were elected by acclimation: Jim Tucciarelli President, Tom Custance Vice-President, Tony Cantalino Treasurer, Jerry Vedovino Secretary, John Quinn SSTW Chapter Chair, an election was required to fill the four positions on the Executive Board with six candidates being nominated for that position. The Local contracted with an independent service the American Arbitration Association to conduct the mail balloting. Ballots were counted on December 21, 2015 with the following results: Nick Mazzatto 158, Larry Merrill 144, Anthony Cervone 107, Bobby Col 167, Chris Olavarria 97, and Domenic Oricchio 103. (The successful candidates are in bold print.)

In addition Jim Tucciarelli, Tom Custance, Tony Cantalino, Jerry Vedovino, and Nick Mazzatto were elected by acclimation as Delegates to DC37. The membership accepted the Election Committees report at the January 5, 2016 General Membership Meeting. Elections for Shop Stewards and Bargaining Committee Members are being conducted in each location during the month of February.




Call for submissions


The Local 1320 website is meant to serve all members, so please let us know about additional features and links which would be useful to you.

Contact
Tel: 212-815-1320
E-mail: 1in2bus@msn.com
*Download Free Adobe Acrobat Reader
to view and print PDF files.
You are visitor number:


Site Counter